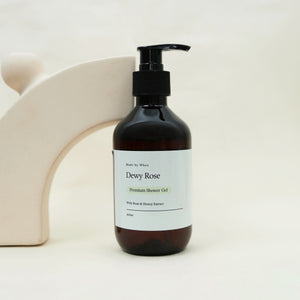 Introducing our Premium Dewy Rose Shower Gel, a luxurious fusion of skin-loving ingredients.
Key ingredient: Honeyquat PF, derived from honey, deeply moisturizes.
We added Rose Flower Extract for its soothing properties.
Rose extract offers a bouquet of benefits:
- Plumping and anti-aging with vitamins C and A.
- Protection against environmental stress with antioxidants.
- Hydration and softness for your skin.
- Instant complexion brightening.
Experience the enchantment of roses in every drop of this shower gel, giving you a fresh, floral scent and a radiant, dewy glow.
Made by Whee 
300ml 
Ingredients: Aqua, Aloe Barbadensis Leaf Water,
Glycerine, Coco-Betaine, Lauryl Glucoside, Polysorbate 80, Caprylic/CapricTriglyceride, 
Rosa Centifolia Flower Extract, Hydroxypropyltrimonium Honey,Fragrance.