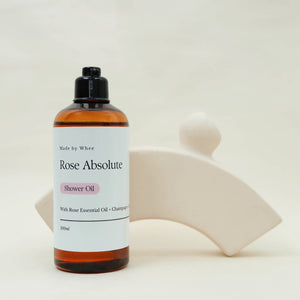 Absolute Rose Shower Oil, infused with the precious essence of Rose Absolute, offers a myriad of benefits. 
It boasts remarkable anti-inflammatory, astringent, and anti-aging properties, working its magic to tone, firm, rejuvenate, moisturize, detoxify, and even help in scar reduction.
When it comes to its delightful aroma, Rose Absolute imparts a sense of soothing and stress reduction. Perfect to help you unwind after a long day.
Made by Whee
300ml
Rose Absolute Shower Oil : Laureth-4 (and) MIPA-Laureth Sulfate (and) Propylene Glycol, Vitis Vinifera Seed Oil, Prunus Amygdalus Dulcis Oil, Caprylic/Capric Triglyceride, Cocamide Diethanolamine, Caprylic Triglyceride, Chamomilla Rectita Flower Extract , Tocopherol , Rosa Damascena Flower Oil, Phenoxyethanol, Caprylyl Glycol, Fragrance oil